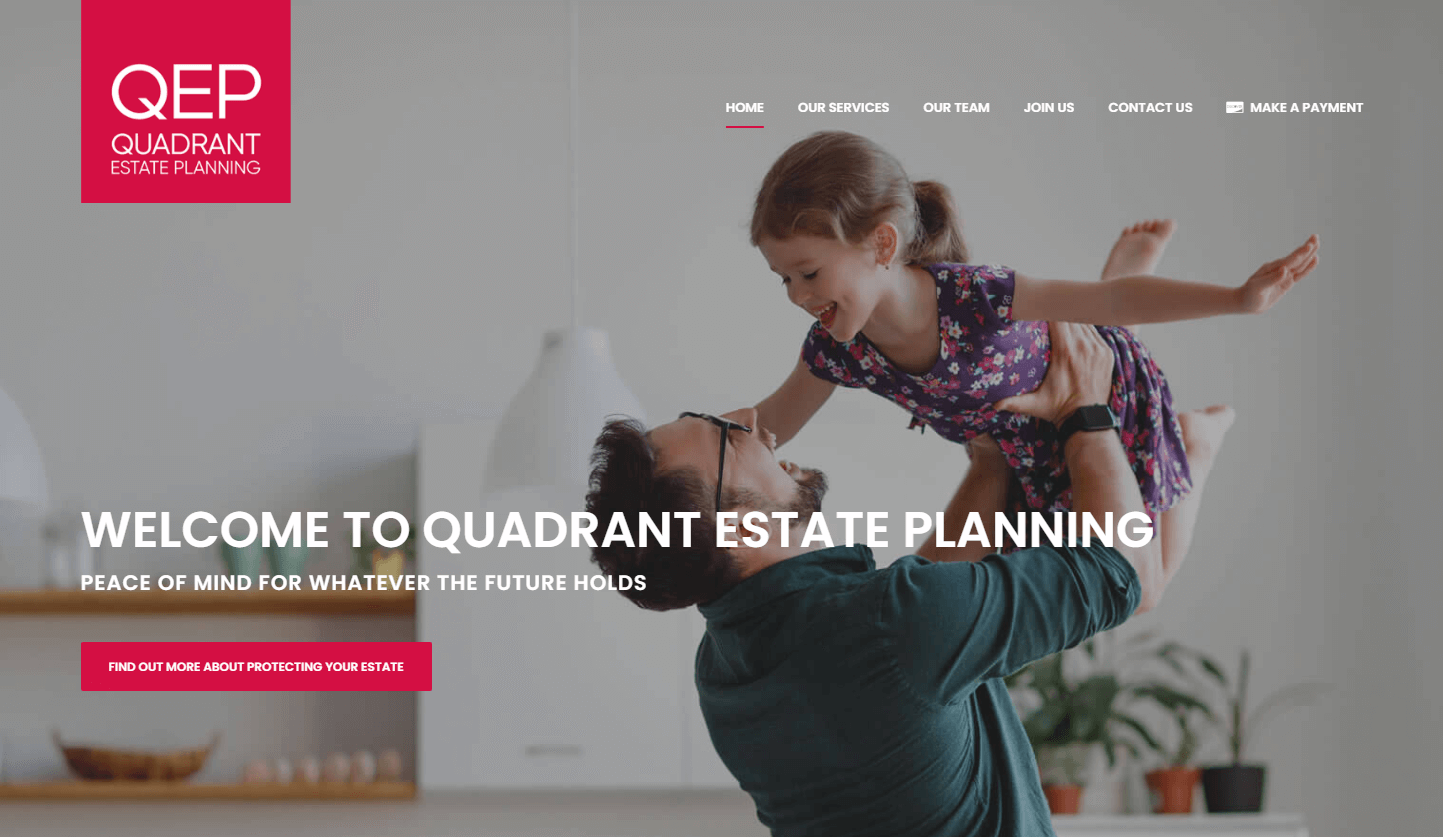 18 Nov

Plan for the Future with Quadrant Estate Planning

Quadrant Estate Planning was founded by the directors of Pocock Rutherford & Co. They combine our heritage and background to create tailored estate planning services. QEP offers a reassuring and professional estate planning service to those who have not yet planned or want to review and improve existing planning. We can assist with Wills, Trusts, Inheritance tax planning and Lasting Powers of Attorney.

No doubt you have taken care to ensure that your assets go to the right people when you die by making a Will. But, if you care enough about what happens to your assets after you die, then you ought to care even more about keeping them and yourself safe while you are alive.

This process is undertaken through a Lasting Power of Attorney (LPA), which is a legal document that names and registers the attorneys who will make decisions that the Donor, the subject of the LPA, may no longer be able to make. There are two different types of LPA:
| Lasting Power of Attorney for Property & Financial Affairs - This allows the persons appointed (the Attorneys) to make decisions about: | Lasting Power of Attorney for Health and Welfare - This allows the Attorney(s) to make decisions for the Donor such as: |
| --- | --- |
| Paying Bills | Care issues |
| Dealing with banks and investments | Where the Donor lives |
| Arranging and collecting benefits | The Donors Lifestyle choices |
| Selling property on behalf of the Donor | Giving or refusing consent to life sustaining treatment |
According to recent figures, the number of registrations for Lasting Power of Attorney (LPA) agreements has more than doubled to 3.85m in the last three years.
With almost 800,000 applications made within a year to April 2019, it seems people are beginning to appreciate the importance of securing their finances, should they become too ill to handle them.
Despite this progress, there are still many people without an LPA, meaning families could find themselves locked out of a loved one's accounts and assets should they fall ill.
Office of the Public Guardian
The figures from the Office of the Public Guardian (OPG) -part of the Ministry of Justice – clearly show a change in public attitude, which appears largely due to an ageing population, combined with an increased awareness and greater understanding of conditions like dementia and Alzheimer's disease.
| Leading Causes | Deaths | Percentage of deaths |
| --- | --- | --- |
| Dementia and Alzheimer's | 59,478 | 12.8 |
| Ischaemic heart diseases | 55,995 | 10.3 |
Source: ONS. Total deaths for 2018: 541,589
Typically, family members now recognise that even though someone is physically well, they may be unable to make decisions because of an impairment of their mind or brain function. In the eyes of the law, any such individual is said to lack capacity.
There is no automatic right for a spouse, family member or even close friend to then start managing the individual's affairs or make decisions on their behalf, despite having their best interests at heart.
Without an LPA in place, affected families could find themselves involved in a lengthy and expensive court process to be appointed their 'Deputy', which can be a serious issue for those families who rely on the income to help fund their loved one's needs.
This state of potentially desperate affairs should encourage more people to take control in advance, appointing a trusted person (friend, family member or professional person), called an Attorney, to act on their behalf, if they lose the ability to make decisions about their future for themselves.
Do not wait to create and register an LPA
We are running a Limited time offer for Pocock Rutherford Clients.
If you would like more information please click here which will direct you to the QEP website where you can book a consultation.
Alternatively, please call the QEP office number on 01442 953901 to speak with an adviser.